Apple
Apple designs, manufactures, and markets consumer electronics and computers, and has developed its own proprietary iOS and Mac OS X operating systems and related software platform/ecosystem. The company's revenues are principally derived from the iPhone line of smartphones, hardware sales of the Macintosh family of notebook and desktop computers, iPad tablets, and iPod portable digital music players. It also realizes revenue from software, peripherals, digital media, and services.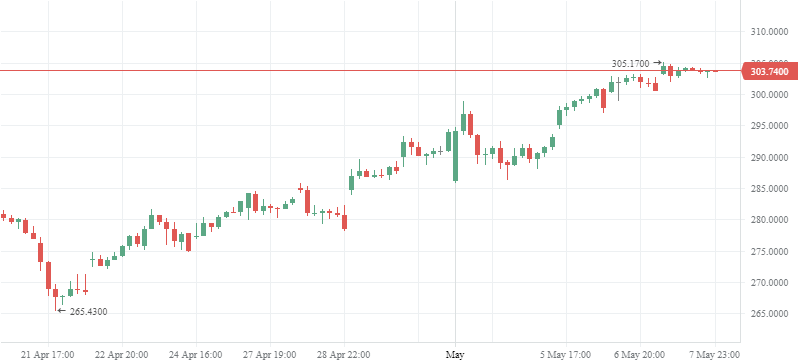 Recently, Apple posted financials for its fiscal 2020 second quarter ended March 28 that most experts characterize as decent. Although they note the lack of guidance that highlights uncertainty as COVID-related pressure picks up in the current quarter.
Analysts of BofA Securities rate Apple 'Buy' with target price of $320 as (1) valuation remains inexpensive, (2) cyclicality of product cycles is less material as revenues can grow on a consistent basis, (3) unit disclosure changes are likely to matter less as the company pivots to a rev/user model and drives higher spend per user across all Apple devices/services, (4) loyal user base, (5) installed base of iOS still growing, (6) services penetration remains low, (7) demographic changes in Apple's favor, and (8) strong FCF and capital returns.
At the same time, analysts of Credit Suisse ('Neutral', TP $260) are less optimistic and say they expect lingering macro pressure to weigh on iPhone replacement cycles, even with the addition of 5G. They also note a slowdown in Wearables during CQ2, weighing on what had been a key growth engine recently, and expect the further deceleration in Wearables and Services ahead.
Returning to FQ2 results, Apple reported total revenues of $58.3 bn, up 1% y/y and above the Street estimate of $54.8 bn. EPS of $2.55 rose 4% and surpassed Street estimate of $2.24.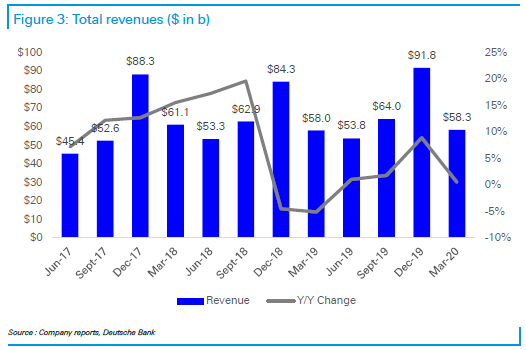 Given uncertainty in the macro economy as a result of COVID-19, Apple did not provide explicit guidance for C2Q. However, on iPhone and wearables, management expects y/y revenue performance to worsen in the June quarter relative to the March quarter. On iPad and Mac, management expects y/y revenue performance to improve in the June quarter.
Revenue from Services grew 17% y/y, with gross margin of 65.4% up 100 basis points sequentially driven by favorable mix. Apple saw strong performance across the board with all-time revenue records in the App Store, Apple Music, cloud services and App Store search ad business. Apple also set a March quarter record for Apple care. Apple's new services Apple TV plus, Apple Arcade, Apple News Plus and Apple Card continued to add users.
The number of paid accounts increased double-digits in all of Apple's geographic segments. The company now has 515 mn paid subscriptions across the services on its platform, up 125 mn from a year ago. On a sequential basis paid subscriptions grew by over 35 mn. Apple is on track to reach its target of 600 mn paid subscriptions before the end of 2020.
iPhone revenues of $29 bn declined 7% y/y as both iPhone supply and demand were impacted by COVID-19. Apple saw a slight elongation in iPhone replacement cycle towards the end of the quarter, which it attributes to the widespread point of sale closures. Apple's active installed base of iPhones has reached an all-time high. The new iPhone SE has been well received by customers.
Mac revenues declined 3% y/y to $5.4 bn, while iPad revenues dropped 10% to $4.4 bn. The company, however, noted that about half of the customers purchasing Macs and iPads around the world during the quarter were new to that product and the active installed base for both Mac and iPad reached a new all-time high. Mac sales are benefiting from home-based education and Work From Home (WFH).
All experts emphasize Apple's sustained focus on capital return program. The company announced a new $50 bn buyback authorization (has $40 bn authorization remaining, so authorization will not be a limiting factor for the next year). It also approved a 6% increase in the quarterly dividend. In FQ2, Apple returned $22 bn to shareholders, including $18.5 bn in share buybacks and $3.4 bn in dividends.
Besides, with all the uncertainty caused by COVID, Apple's fortress of a balance sheet adds significant flexibility and remains a key competitive advantage. Liquidity is not a concern for the company as it has deep access to capital markets and unmatched free cash flow generation. At the end of FQ2, Apple had $193 bn in cash plus marketable securities, and total debt of $110 bn. Net cash was $83 bn at the end of the quarter. Free cash flow was $11.5 bn in FQ2.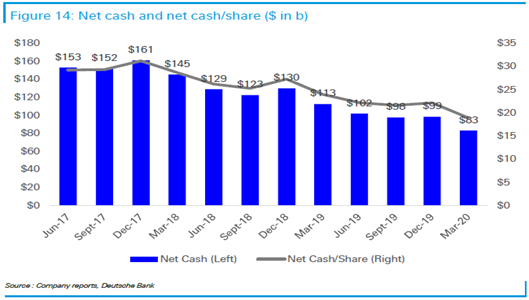 Apple financial summary