iShares MSCI Sweden ETF: bet on Swedish economic outperformance (Bloomberg Intelligence)
iShares MSCI Sweden ETF is an exchange-traded fund that seeks to provide investment results that correspond to the performance of publicly traded securities in the Swedish market, as measured by the MSCI Sweden 25/50 Index. Industrials stock account for 36% of the fund's holdings followed by Financials (26%), Information Technology (12%) and Consumer Staples (10%) stocks. The fund's top-10 constituents include: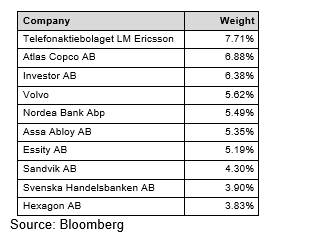 Investment thesis
Sweden's economy eased a mere 0.3% in the first quarter compared with 4Q 2019, preliminary data show. This is another sign Sweden's more relaxed containment efforts have lessened the initial blow to the economy from the coronavirus pandemic. The quarterly rate was better than the consensus estimate for a 1% fall. Compared with a year-earlier, GDP-indicator grew 0.5%. The flash reading does not include a detailed breakdown of the data, but according to the Statistics Office, exports held up, while investment and inventories eased.
Sweden has become an outlier in terms of its less strict response to the pandemic. The country with the population of 10 million has relied largely on voluntary measures – primary and secondary schools, as well as most restaurants, have remained open, albeit with restrictions. According to online data provider Citymapper, footfall dropped 70% in Stockholm at the end of March. This compares with an almost 90% drop during lockdown for cities including London, Berlin and Paris.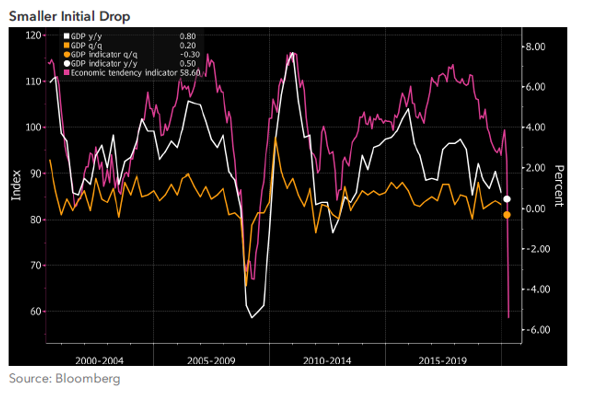 It should be noted here that with economic data worsening at the end of the quarter and close to half of the country's production designated for exports, this slim contraction won't be enough to prevent a steep recession in 2020. The euro area – Sweden's biggest export market – saw a slump of 3.8% in 1Q, with Germany's GDP down 2.2%. As elsewhere, spillovers from global production closures and disrupted supply chains will also add to Sweden's downturn. Bloomberg Economics forecasts a global contraction of 4% in 2020, which will seriously impact the export-oriented Nordic economy.
A separate report showed Swedish industrial production eased 0.1% year-on-year in March, while orders slumped almost 10% from the previous month. The biggest impact was seen in the automotive industry, where manufacturers such as Volvo Cars halted European production from late March until late April.
At the same time, analysts of Bloomberg Economics expects Sweden's recession to be smaller than elsewhere in Europe. They project a full-year contraction of 'just' 5.6% for Sweden's economy, with the biggest blow in 2Q, while the European commission forecast a record 7.75% slump for the euro area and a 7.5% contraction for the EU.

We believe that shares of iShares MSCI Sweden ETF offer an interesting investment opportunity as a bet on Swedish economic outperformance. The fund's advantages include relatively high liquidity, a moderate expense ratio of 0.55% as well as a healthy annualized dividend yield of about 3%.
Share price dynamics: