Boeing Credit Risk maybe at Risk (Bloomberg Intelligence)
The Boeing Company – multinational corporation that designs, manufactures, and sells airplanes, rotorcraft, rockets, satellites, telecommunications equipment, and missiles worldwide. The Company operates in four segments: Commercial Airplanes (BCA), Defense, Space & Security (BDS), Global Services (BGS), and Boeing Capital (BCC). BCA segment develops, produces and markets commercial jet aircraft and provides fleet support services, principally to the commercial airline industry worldwide. BDS segment is engaged in the research, development, production and modification of manned and unmanned military aircraft and weapons systems for strike, surveillance and mobility. BGS segment provides services to commercial and defense customers worldwide. BCC's segment portfolio consists of equipment under operating leases, finance leases, notes and other receivables and assets held for sale.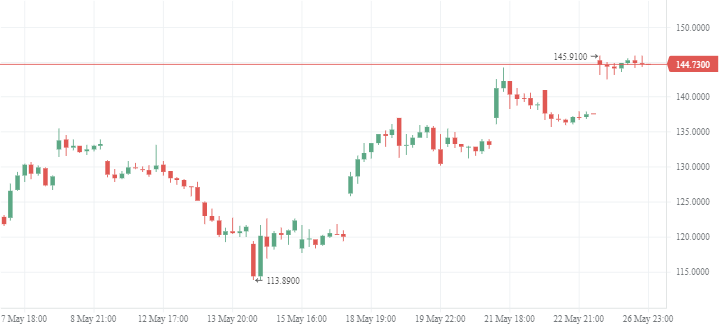 It should be noted, that due to problems with Max 737, Boeing challenges credit risk as cash recovery delayed. Due to the current situation where 737 Max grounded, production halted and simulator training contemplated, Boeing will burn more cash in 2020 than last year, pressuring credit metrics. Otherwise, Boeing's $13 billion delay-draw term loan provides financial flexibility, supporting the OEM's liquidity position to help weather stresses presented by the grounding while offering a lever that can be pulled to reduce debt once the aircraft returns to service. Directing all excess cash in 2021-22 toward debt reduction will improve key credit metrics, yet they may still lag levels prior to the grounding when Boeing carried A2/A/A ratings. Further delays to re-entry past the mid-2020 estimated return risks further rating activity.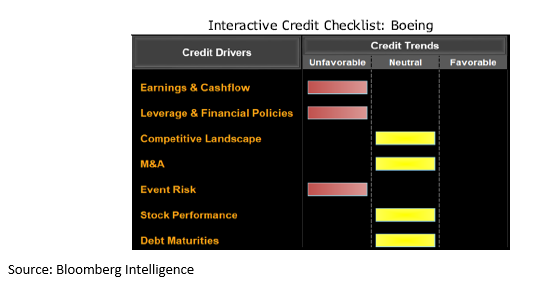 Also issuing $25 billion of new bonds significantly bolstered the OEM's liquidity position. That's key, given expectations for $15 billion of free cash flow use this year and the need to maintain at least $7 billion of cash on the balance sheet to remain compliant with one of Moody's stated downgrade triggers for its Baa2 rating. Boeing's $9.6 billion revolving credit line remains undrawn, with $2.3 billion, $500 million and $1.9 billion of commercial paper maturing in 2Q, 3Q and 4Q, respectively.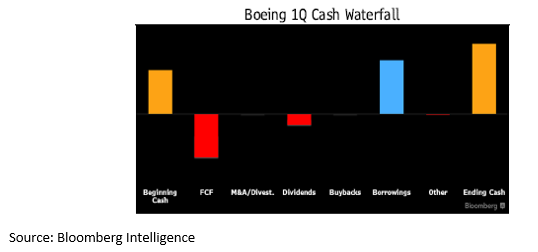 However, Boeing's $25 billion debt tap significantly bolsters liquidity, bringing pro forma cash to about $40 billion, which is key given credit metrics will remain under significant strain as the OEM's cash use may hit $15 billion for the year. With the 737 Max still grounded and coronavirus curbing aircraft demand and travel, risk to further ratings activity is elevated.
In addition, the effects of the coronavirus on aircraft demand and travel, combined with the 737 Max grounding, limits flexibility within Boeing's credit ratings. Under Fitch and S&P's base case, a phased ungrounding of the Max should take place in 3Q, with deliveries expected to resume in September. Should this timeline get delayed, cash-flow views would further deteriorate and increase the threat of more rating activity. Boeing's financial policy should prioritize deleveraging through 2023, in our view, once the company gains certification and deliveries resume, paying down the debt it has taken on to manage liquidity. Historically, Boeing's cash and equivalents on the balance sheet have averaged about $10 billion at quarter-end for the past decade.
Negative factors such as plummeting passenger traffic, lower aircraft demand and the Max grounding are roiling Boeing's financial risk, with cash usage that may top $15 billion this year, underscoring a protracted recovery through 2023 with credit gauges pressured. But Boeing's $25 billion bond issuance fortified liquidity, yet risk of further rating activity remains elevated.
But the pressure for Boeing's credit rating will maintain the cash flow descending amid Max and virus volatility. Key protection measures such as leverage, FFO-to-debt and FFO leverage will be under severe pressure for Boeing this year, with flexibility under rater risk targets limited through 2022 as the Max remains grounded, airlines look to defer planes and passenger traffic plummets, with a recovery not expected for at least a couple of years. In grappling with effects from Covid-19, Boeing is adjusting 737 production rates to better align with demand and working toward regulatory approvals for the Max, targeting resumption of deliveries for the plane during 3Q. This will be key for free cash flow beginning to normalize next year and to start paying down the significant debt the OEM has taken on to weather the Max grounding and end-market volatility.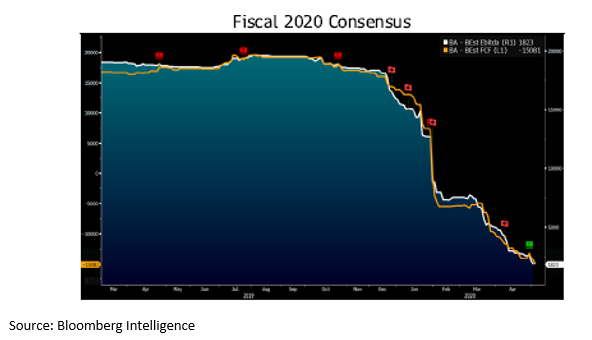 Due to current situation, Boeing management noted preference to remain investment grade but highlighted that market conditions will be the biggest determining factor. With limited headroom under rater triggers, financial policy is likely to remain in favor of creditors through 2023 to repair damage being done to the OEM's balance sheet. Boeing has already pulled key levers to preserve and support liquidity by suspending its dividend and share repurchases, scrapping its $4.2 billion joint venture with Embraer, and raising about $14 billion of new loans followed by $25 billion of new bonds to better cope with the Max grounding and pandemic-driven. Despite widening and rater outlooks flagging caution, some Boeing bonds trade near industrial peers that are strengthening balance sheets, even as the Max grounding tempers 2020 cash flow views and delays credit-metric recovery.
Finally, the investors should be ready that Boeing's bonds prepare for potential BBB rating. Deteriorating Boeing credit metrics stemming from the Max grounding, 2020 cash flow expected to be worse than last year and potential supply-chain disruptions will likely keep rating risk heightened. Should Boeing experience further downgrades to the BBB tier, bonds may be framed by industrial peer issues such as GE (Baa1/BBB+/BBB+) and Parker-Hannifin (Baa1/A-/BBB+). GE's path to strengthen its balance sheet appears to have momentum with 2020 cash flow guidance and resources to cut net debt that may bring leverage below its 2.5x target. Parker-Hannifin is focused on debt reduction over the next couple of years, targeting leverage closer to 2x before it contemplates more deal activity.