Norwegian Cruise Line Holdings Planning For a Measured Recovery (Bloomberg Intelligence)
Norwegian Cruise Line Holdings Ltd., together with its subsidiaries, operates as a cruise company in the North America, Europe, the Asia-Pacific, and internationally. The company operates the Norwegian Cruise Line, Oceania Cruises, and Regent Seven Seas Cruises brands. It offers cruise itineraries ranging from a few days to 180-days calling on various locations, including destinations in Scandinavia, Russia, the Mediterranean, the Greek Isles, Alaska, Canada and New England, India and the rest of Asia, Tahiti and the South Pacific, Australia and New Zealand, Africa, South America, the Panama Canal, the Caribbean, and Harvest Caye. It distributes its products through retail travel advisor, international travel advisor, and onboard cruise sales channels, as well as meetings, incentives, and charters. The company was founded in 1966 and is headquartered in Miami, Florida.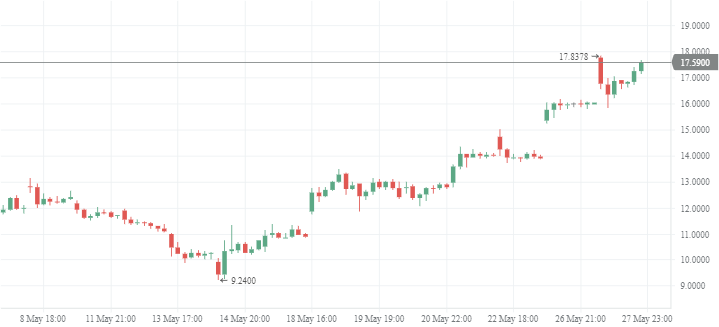 Management of NCLH expressed optimism regarding the rate of new bookings while also acknowledging that the recovery could take time. While the future remains a black box, the recovery may not be linear and the company's leverage levels could remain high for the next several years, analysts of Barclays view the risk/reward on NCLH shares favourably, particularly for longer term investors.
Barclays analysts suggest that NCLH could start sailing a handful of ships upon receiving CDC approval and implementing a rigorous system for ensuring guest safety, while phasing in the rest of its fleet within 5-6 months if needed. Occupancy could take time to ramp given potential safety concerns and social distancing guidelines. Demand could take at least 7-8 months (the length of the average booking curve) to regain momentum, with limited port choices also a possible temporary headwind on demand.
NCLH noted that it has the infrastructure to phase in the rest of its fleet (at roughly five ships per month) over a period of 5-6 months. It is important to note that this "plan" is more of a commentary on the company's ability to roll out its fleet than a statement on expected demand. NCLH does not have a "magic" number of ships in mind as it thinks about the recovery. The most important aspect will be matching supply and demand.
Regarding demand, NCLH believes it will take time to ramp up loads and that it could take at least two years (maybe more) to return to 2019 levels. In addition to not knowing whether or not the government will allow ships to sail 100% full, it could also take a while for the industry to generate that kind of demand. Given that the average booking curve is roughly seven to eight months, it could take that long to gain momentum and stimulate ample demand. So the first step would be to get the ships in the water and have consumers see that cruising is safe. Then there will be a period where company marketing ramps. Ports and itineraries will play an important role in stimulating demand as well. Clearly, limited choices could have an impact on demand.
NCLH sees cruise demand starting in 4Q20 and accelerating through 2021. Overall bookings and pricing for 2021 is currently within historical ranges (relative to the past 3 years); however, this data will be more meaningful once sailings start and the industry begins to market. The company is currently taking on new bookings, which is encouraging to management, particularly given that NCLH has shut down marketing and the travel agents are not working at full capacity. Management is seeing new cash cruise bookings for 2021; although, net bookings remain negative. At the current rate, bookings are expected to be cash positive in the next 60 days.
NCLH has at least 19 months of liquidity assuming a continued total shutdown. Following the company's $2.4BN capital raise, NCLH had $3.1BN in pro forma liquidity, which assumes 50% of the company's 2020 customer deposit balance is refunded in cash. Total cash burn per month is $120MN to $160 million (up $12MN per month given the recent transactions), which is inclusive of capex and debt maturities.
Given that the entire industry is paused and it could take time to ramp back to prior levels, investors wonder if a portion of the prior fleet will permanently be retired. NCLH foresees all of their vessels coming back to service over time given the relatively young age of the company's fleet and the fact that NCLH has the smallest fleet of the three major public cruise companies. New ship delivery delays (given current shipyard closures) will also be a positive for industry capacity. Barclays analysts note that Fincantieri, NCLH's main shipbuilder, announced that they resumed operations.
Typically, the cruise companies provide capex detail for the next several years on the earnings calls. As investors attempt to model free cash flow for NCLH over the near term, capex is a key variable. Given the shipyard closures, the new ship delivery schedule for the industry is in flux. Analysts of Barclays note that NCLH's next scheduled deliveries (a 3,300-passenger Project Leonardo ship for the Norwegian brand and a 1,200-passenger Project Allura ship for the Oceania brand) were not until 2022. As such, any delay may not have much of an impact on the company relative to their peers.
Revising Estimates and Price Target
Barclays analysts updated estimates for Covid-19 and updated price target following 1Q20 results. Their estimates for 2020 assume no sailings in 2Q or 3Q, with a return of 5 ships in 4Q (reflects roughly 20% of run-rate capacity levels from 2019 levels) at 65% occupancy levels (assumes social distancing measures are in effect) and pricing at 85% of 2019 levels as supply is managed inline with demand. Meanwhile, estimates for 2021 assume a gradual return to 90% capacity levels at 85% occupancy and at 90% of pricing levels all relative to 2019, while 2022 estimates assume a return to 100% of capacity at 90% occupancy and at 95% of pricing relative to 2019. In sum, Analysts of Barclays expect the company to return to 2019 levels beginning in 2023.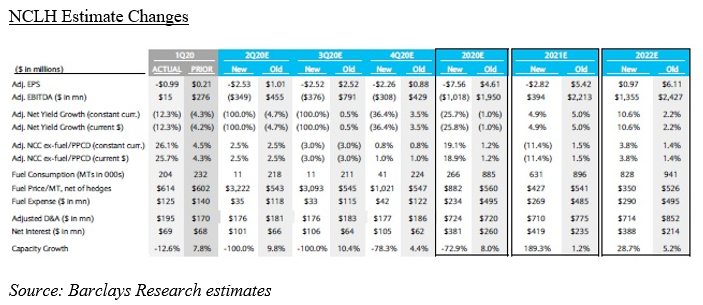 Barclays analysts lowered their price target to $21 from $70, and also changed their valuation methodology to EV/EBITDA from P/E to accommodate for non-normalized EPS estimates through 2022. As analysts discussed above in the estimate changes section, they do not expect the company to return to 2019 levels until 2023 (and their estimates only currently go through 2022). While also not normalized, 2022E EBITDA provides a better basis for valuation as the company grows back into more robust EPS generation. Barclays analysts' valuation is based off of an 11x EV/EBITDA multiple on their 2022E EBITDA of $1,355 million. The 11 EV/EBITDA multiple is slightly higher than the company's five- year average to account for both using a non-normalized EBITDA as a base and the assumed ramp. Analysts take the resulting EV, back out net debt and discount the equity value back a year to get company's price target.
Old price target was based on a 14x P/E multiple applied to prior 2021 EPS of $5.42, which analysts of Barclays adjusted by $0.46 to account for share-based compensation expenses that the company excludes from its adjusted earnings calculations.